Featuring James V. DiPaola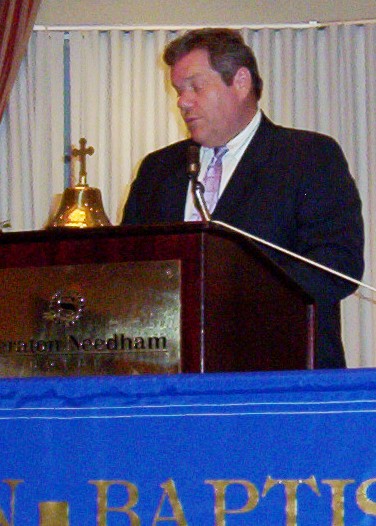 Middlesex County Sheriff, James V. DiPaola, shared with the members of the Social Union how he came to be elected sheriff and that Middlesex County is the fifth most populous county and one of the oldest in the United States. He had served as a Malden police officer and as a State Representative in the Massachusetts Legislature, prior to becoming sheriff.
As sheriff he is responsible for the prisons in the county. He talked about the financial status of Middlesex County. He talked about some of the patronage that had been rampant in the system and how he has worked to revamp the hiring process. One interesting anecdote concerned the complications involved in getting rented temporary buildings on the prison grounds repaired. The prisons are severely over-crowded. Sheriff DiPaola is especially proud of his efforts at promoting alternatives to imprisonment, citing some of the new technology that is available to keep track of prisoners, and half-way alternatives that prepare former inmates to successfully re-enter society.
His closing comments in response to a question from the audience, were perhaps the most entertaining of the evening. As the High Sheriff of Middlesex County, he has an obligation to serve in the graduation ceremony at Harvard University. It was quite evident to all that this obligation is one that he enjoys.