Boston Baptist Social Union
April 2005
April 2005 Meeting
A Voice From the Past
Dr. Peter Stine was our special guest for this evening. Dr. Stine is a native of Michigan. He received his undergraduate degree at Asbury College in Kentucky, his Masters at Northwestern, and his PhD at Michigan State.

He has taught English at the college level for 40 years. The first three at Wheaton College in Wheaton, Illinois. The next thirty-seven years at Gordon College in Wenham, Massachusetts. He is an ordained American Baptist Minister.

He has traveled as Adoniram Judson and William Carey. He has been our guest in the past as Daniel Sharp Ford.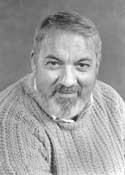 Tonight, he again portrayed our founder, Daniel Sharp Ford, so wonderfully, it was as if we were actually listening to him again. I know that I learned much more about this unique man, his business the Perry Mason Companies and the Youth's Companion. Judging from the rapt attention given Dr. Stine from the members in attendance, I know I was not alone.