Agenda
| | |
| --- | --- |
| Reception | 5:30 p.m. |
| Dinner | 6:00 p.m. |
| Meeing | Following Dinner |
| Program | Following Meeting |
The location of this meeting will be at the Sheraton Hotel in Needham, MA
Our Guests
Rev. Jim Tilbe
Chief Chaplain
Massachusetts Corps of Fire Chaplains
Rev. Robert Killeffer
Pastor
First Baptist Braintree, MA
Mr. David Kinniburgh
Director
Boston Baptist Social Union
Rev. Michael Walker
Pastor
Messiah Baptist Church Brockton, MA
Mr. Jimmy Thomas
Director
Boston Baptist Social Union
Program Details
Welcome
President Richard Wolf
Song
"There Shall Be Showers of Blessings"
Led by Richard Freeman
Invocation
Rev. Robert Killeffer
Dinner
Business
Christian Work Moment
Special Music
Geoffrey Dana Hicks
Program
Rev. Jim Tilbe
Massachusetts Corps of Fire Chaplains
Benediction
Rev. Michael Walker
June Meeting
June 6th, 2016
Lobster or Steak Night
About the Program
Rev. Jim Tilbe is the Chief Chaplain of the Massachusetts Corps of Fire Chaplains and Pastor of the First Congregational Church of Raynham - the Stone Church.
Fire department chaplains have a long history in Massachusetts, going back more than one hundred years. Despite the fact that the Massachusetts Corps of Fire Chaplains was actually founded as recently as 1999, it too has a wonderful history.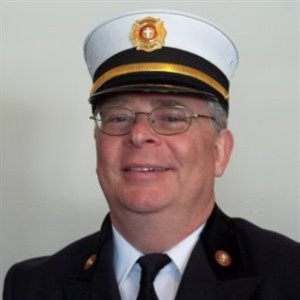 However as a group we are focused on the work we feel God has called us to: serving the firefighters and citizens of Massachusetts. Our training and our work keeps us looking not only at today, but also at the future.
The Fire Department Chaplains, selected by his or her own Department, provides spiritual and emotional support to firefighters and their family members whenever necessary. This service is extended to the citizens of the Commonwealth when they become victims of fire, medical emergency or natural disaster.
Fire Department chaplains are professionals who are available to respond to emergencies on a 24 x 7 basis. They are able to provide counseling, tend the sick and injured, comfort the grieving and are often trained in the delivery of Critical Incident Stress Management Skills.
They are present at major incidents, training sessions, memorials, social events, public functions, and as a part of the team at the Fire Station.