Agenda
Reception 5:45 p.m.
Dinner 6:30 p.m.
Meeting after Dinner
Meeting will be held at the Sheraton Needham
Our Guests
John E. Happ
Author
Rev. Dr. Deborah Jackson
Peoples Baptist Church of Boston
Minister Annette Thomas
Messiah Baptist Church, Brockton
Mr. Jimmy Thomas
Vice President
Boston Baptist Social Union
Program Details
Welcome
President David Collins
Song
"Shine, Jesus Shine"
Led by Richard Freeman
Invocation
Rev. Dr. Deborah Jackson
Dinner
Business
David Collins
Christian Work Moment
Fred Drauschke
Program
The Navigation Case
John E. Happ
Benediction
Minister Annette Thomas
Lobster or Steak Night
June 6th, 2022
Our Program
Special Guest - John E. Happ
The Navigation Case reveals the drama and sacrifice expended by America's first ever demonstraion of air superiority, during the greatest campaign in U.S. Air Force history.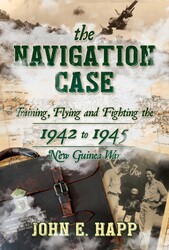 An aged and glossy leather briefcase was discovered when our family house was cleaned out and sold. We came to learn that my father had meticuously collected his military documents, private letters, and souvenirs, and packed them away in this -- his pilot's navigation case.
From randomly within, a newspaper article tumbled out. It described a massive typhoon in New Guinea causing "horror and tradgedy" and resulting in incredible untold loss of men and aircraft. But larger questions remain unanswered. What was my father, or any American, doing in New Guinea, of all places? If America was fighting Japan, why were we fighting in New Guinea?
Aviation as an industry was in its infancy. The sagas of pioneering pilots detail fascinating but deadly cadet training and violent air missions. The narrative flourishes into an incredible story giving the context for all the Pacific war stories from Pearl Harbor, Guadalcanal, Midway Island, and Iwo Jima, up to the avoidable castrophe of Hiroshima and Nagasaki.