Boston Baptist Social Union
November 7, 2005
Ladies Night
At Symphony Hall in Boston
Our Program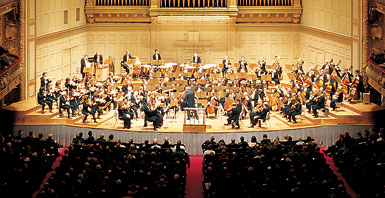 For this evening the Board of Directors has decided that the concert part of our evening will be open to the general public for just $10. Click here for concert ticket information. Boston Baptist Social Union members and their guests have complimentary admission as part of the usual member and guest fees. We encourage our members to invite their friends, neighbors, and church friends to attend the concert at this special reduced rate of just $10.
We welcome back the New England Brass Band for a repeat performance. We are especially looking forward to enjoy their music in this historic hall. For more information see the band's website.
The Dove Brothers are a nationally known Gospel quartet. We anticipate stirring renditions of several music selections. For more information about the quartet and a audio sample of their music check out their website.
Rev. Geoffrey Dana Hicks, was fanatastic at the piano during the dinner. When he finished we gave him a well-deserved applause.